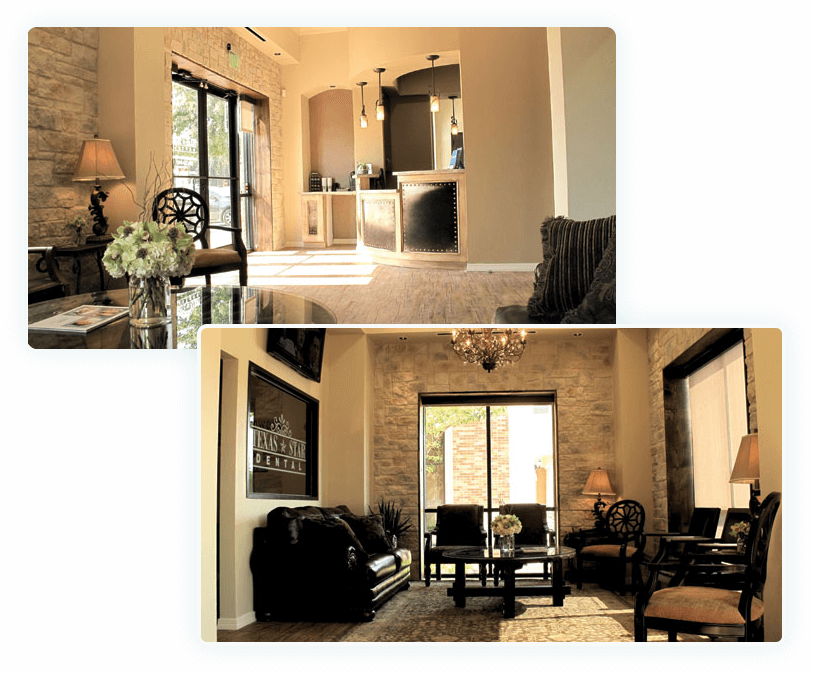 Comfortable
Office Amenities
Your comfort is one of our top priorities, and we aim to help all of our patients have both pleasant and productive dental visits. We offer a variety of amenities in our office, including:
Complimentary Refreshments in Lobby
Private Treatment Rooms
Play Area with Toys & Video Games
TVs with Netflix & Hulu Access
Cozy Pillows & Blankets
Massaging Dental Chairs
Headphones for Music
Treasure Chest Full of Prizes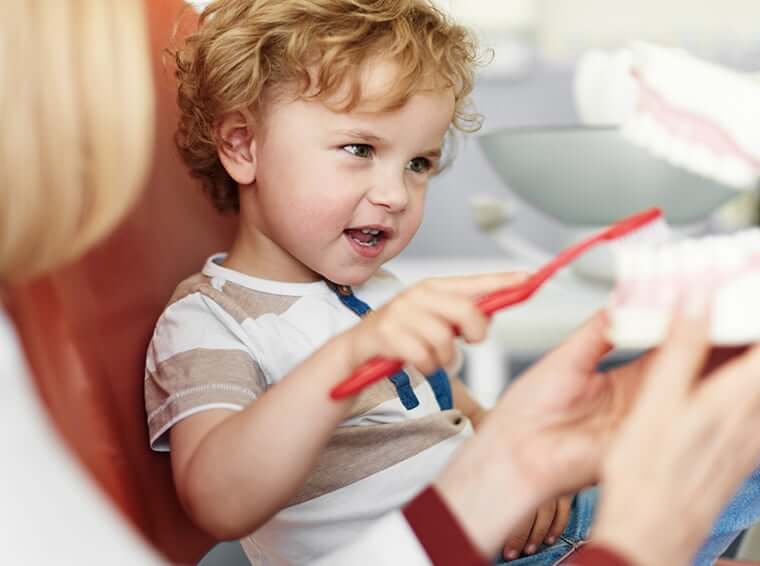 Kid-Friendly

Dentistry
Our office is proud to work with kids of all ages from all different dental backgrounds. We strive to teach our young patients the importance of dentistry and how to take great care of their teeth and gums so they can maintain optimal oral health now and throughout their entire lives. Every pediatric patient that visits our office has a custom treatment plan created just for them, just like our adult patients, but we often recommend additional preventive services like dental sealants and fluoride treatments to prevent tooth decay and keep their small smiles in tip-top shape!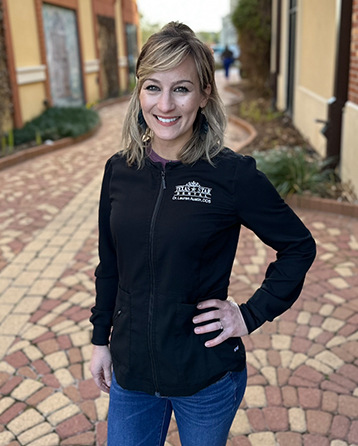 Meet Dr. Lauren Austin
Dr. Lauren Austin was born and raised in the Spring area and attended Klein High School, where she met her husband, Hayden. She attended Texas A&M University and graduated Magna Cum Laude with a dual degree in biomedical science and nutrition. For her dental degree, she attended the University of Texas School of Dentistry at Houston, where she excelled in patient relations and clinical skills.
From day one of dental school, Dr. Austin knew that dentistry was what she was born to do. The technical aspect thrills her because every day brings a new challenge with regards to restoring a patient's smile. She loves working with her hands, perfecting the "art" of smile design and restoration, and also being able to provide relief for patients who are in pain. The "people" aspect of dentistry is equally as thrilling to her. Dr. Austin loves being around people, talking to them (sometimes too much), hearing about what's going on in their lives, and being a part of the community she grew up in. Being a part of a team that is passionate about those same things is a blessing to her.
In her personal life, Dr. Austin and her husband, Hayden, have three beautiful daughters, Hayley, Katelyn, and Taylor. They often spend their weekends cheering the girls on during soccer games, volunteering with girl scouts, mentoring at a local group foster home (Hearts with Hope), and her favorite — grilling some steaks and chilling out on the back patio. Dr. Austin looks forward to getting to know you and your family, too!
Contact Us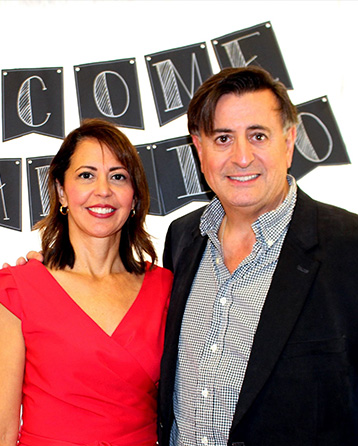 Troy Mannino, DDS
Dr. Troy Mannino is a board-certified dentist who has extensive experience in both private practice and community dentistry for over 30 years. After he received his BA in biology from Lamar University in 1984, Dr. Mannino attended the University of Texas dental branch in Houston and graduated in 1988. He has spent most of his prestigious dental career in the Houston area, as well as three years in Indiana practicing dentistry. Over the years, Dr. Mannino has become well known in the Houston area for his cosmetic work as well as his friendly, talkative chairside manner! He even speaks clinical Spanish to accommodate all patients for diagnostic and treatment purposes. Dr. Mannino is married to Marcela, a physician specializing in infectious diseases, and he has three boys, Anthony, Nicholas, and Leonardo. During his free time, he enjoys spending time with his family barbequing, cooking Italian food, reading, and watching television shows about scientific topics.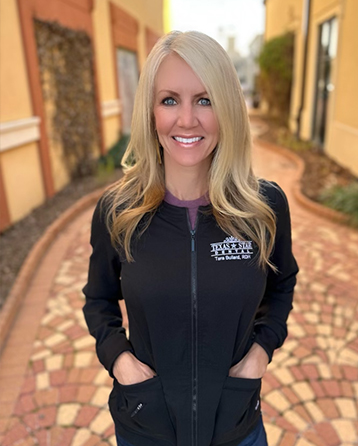 Tara Bullard
RDH
Tara has over 22 years of experience in dental hygiene. She graduated with her BS from The University of Oklahoma Dental Hygiene Program in 2000. She practiced in Tulsa, Oklahoma until moving to Spring with her husband, Chad, in 2003. They have two teenage boys who keep them busy with all of their activities and sports.
Tara has been with Texas Star Dental since 2019. She strives to make a true connection with each of her patients with the hope of making them feel at ease and making a difference in their oral health. With a "soft touch" she tries to create a pleasant, pain-free experience for everyone while providing the best possible care.
Outside of the office, she enjoys staying physically active with activities including running, skiing, golfing, and walking her two goldendoodles! She also loves traveling and spending time with friends and family.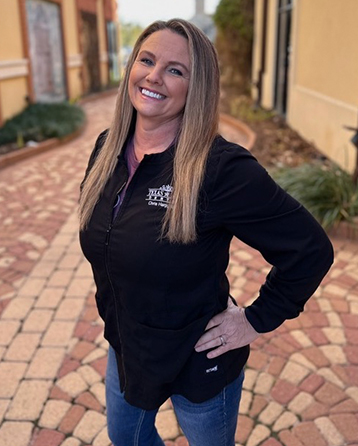 CHRISTINA HARP
RDH
Christina Harp graduated from the dental Hygiene Program at San Juan College in 2004. After her graduation, Christina worked for her general dentist in New Mexico until her husband was transferred to the great state of Texas in 2009. Since moving to Texas, Christina's skill and knowledge has grown exponentially, eventually leading her to become a coach for other dental practices to help their hygiene programs excel in patient care and clinical skill! Even though she has helped (and still helps) coach many other offices, Christina has called Texas Star Dental "home" since 2017. She has a passion for educating patients, not just with words, but also by showing photos and explaining treatment in such a way that everyone who sits in her chair understands how to improve their oral health.
Christina has been married for 29 years to her college sweetheart. She has a talented and beautiful daughter who has graduated from Texas A&M and is now a successful wife and mother. She also has a humble and handsome son who is attending Texas State University. Christina and her family work hard and play hard, with fitness and nutrition being an important part of their lifestyle.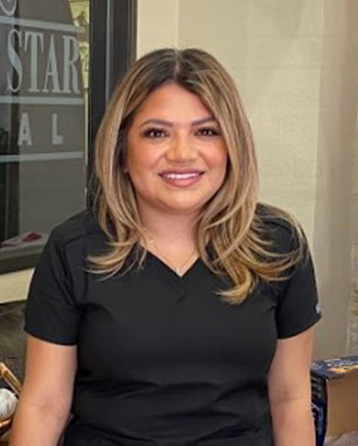 Virginia Martinez
Office Manager
Virginia has been working in the dental field for over 14 years! Her career began in 2008, when she completed the Dental Assistant Program at Lonestar College. She worked as a dental assistant for a few years before moving to the "front office" and learned to combine her clinical knowledge with the administrative aspects of the industry. Virginia has called Texas Star Dental "home" since 2014 and finds great pride working in an office with a great reputation! She truly enjoys educating patients on their dental health and helping them make the best decision for their recommended treatment. She is fluent in both English and Spanish, allowing her to communicate with patients in their native tongue and making trips to the dentist easier and more comfortable for all!
If you are ever wondering on how to maximize your insurance benefits or have any questions about your account, she is also your go-to girl! Virginia's passion for dentistry and lifelong learning continued to motivate her to complete an AS in Science at Lonestar College and she's now currently working to complete her business degree in Health Care Administration!
In her spare time, she enjoys reading, spending time with family and friends, being active in her community, and of course, snuggling next to her fur baby May!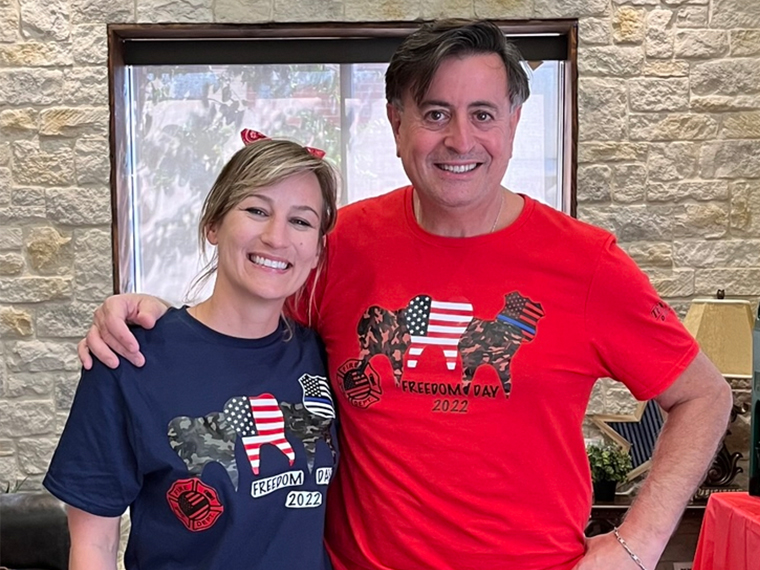 Our Promise
At Texas Star Dental, we never put in the bare minimum and call it a day; we always aim to go above and beyond to help our patients achieve healthy and beautiful smiles. In fact, our motto is "Go the extra mile for a smile." To us, this means that we do whatever it takes to make sure a patient feels comfortable and to make sure they understand their treatment and how to take care of their teeth.
We surpass the recommended standards for cleanliness and safety set by the American Dental Association (ADA) and OSHA to keep our practice safe and clean for our staff and patients. We also have several bilingual teammates to help translate information to patients for whom English may be a barrier to understanding needed treatment. If there's anything else we can do to make your experiences in our office better, all you have to do is ask!
---

---
About Texas Star Dental
At Texas Star Dental, we are honored every time someone trusts our team to care for their smile, and we strive to treat every single one of our patients like family. To keep our care as convenient as possible, we offer same-day appointments whenever we can, as well as early morning and evening appointments. Our office is also very insurance-friendly, and we are happy to accept CareCredit® payment plans to meet our patients where they are at financially.
Our practice was designed with your family in mind, and everything from our home-like atmosphere to our dental sedation services helps to take our patient's experiences from average to outstanding!
Reimagining the
Traditional Dental Experience
When you think of visiting the dentist, do words like "calm" and "serene" come to mind? At Texas Star Dental, we are committed to making our practice feel less like a dental office and more like a home. Our lobby has complimentary refreshments, plenty of seating, and a kids' area for children to play in. Our private treatment rooms have massaging dental chairs, TVs with Netflix and Hulu, and cozy pillows and blankets are available upon request. If there's anything else we can do to make your visits more comfortable, all you have to do is ask!