---

---
Welcome to Texas Star Dental in Houston, TX!
At Texas Star Dental, compassionate care and modern practices are the cornerstones of our business. Dentistry is an ever-evolving field, and our experienced team is always researching the latest advancements in dental care to make our treatments more comfortable, efficient, and productive. We are honored every time someone chooses our practice to be their dental home, and we look forward to the possibility of working with you and your family!
Comprehensive
Service Options
Your dental care experience is fully personalized at Texas Star Dental. Our treatment plans are always custom made based on the unique individual sitting in front of us. Our variety of preventive, restorative, and cosmetic dental treatments were designed with you in mind! If you'd like to learn more about our treatment options or schedule a consultation, we recommend browsing our services page or getting in touch with our friendly front office team.
Meet Your Houston
Dental Team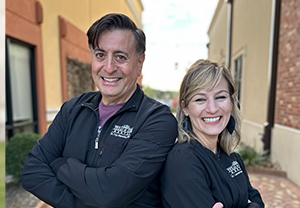 Dr. Austin is passionate about helping families in Houston achieve and maintain happy and healthy smiles. Our team loves working one-on-one with patients to identify the services they need and want to reach their smile goals. We never just provide the bare minimum and call it a day—our goal is to always go the extra mile to provide our patients with the exceptional care that they deserve.
Meet The Team